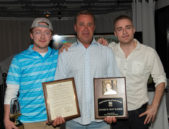 Bob Ransom, 2021 HOF Inductee
During the 2021 Awards Banquet, LJ Smith (2014 Inductee) read the Resolution adopted by the board and John Louk (2017 Inductee) presented the Treestand Hall of Fame Award to Robert M. "Bob" Ransom. To share in the moment, Bob was honored by having two of his son's (Jack and Bobby) present.
Bob's contributing virtues include:
* has had a leadership role in the hunting industry since 1992.
* has been granted numerous US Patents as an inventor and has assisted with developing and successfully launching many other unique product designs in the hunting industry.
* elected to serve on the TMA Board for 15 years of which has served as President for 10 of those years (longest to hold this position).
* instrumental and influential in inviting keynote speakers and special guests to attend Members' Conferences, as President has emphasized the importance of funding an annual Members' Conference in support of TMA's continued viability and solidarity.
* aspired to take a leadership role in two successful treestand companies (Ameristep and Primal Treestands) and has exemplified throughout his career the ability to build strong and lasting relationships in the hunting industry to bolster success.
Paul Meeks (2010 Inductee) and Tom Gallagher (2012 Inductee) who could not attend for health reasons, congratulated Bob in separate videos. Paul complimented Bob for his leadership and wished him continued success. Tom described Bob "as a leader amongst leaders, which is not always easy to do". Following the video, members and guests joined in the celebration and shared their congratulations and also unique contributions of Bob over the years.